1 building on Ga. Gwinnett College remains closed after explosion | News
LAWRENCEVILLE, Ga. — One building on the campus of Georgia Gwinnett College remains closed after an explosion happened in a bathroom on the campus Monday morning, injuring a woman. According to the school's president, foul play is not suspected.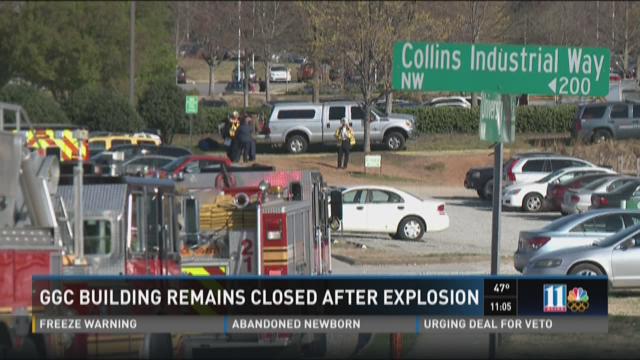 According to Gwinnett Fire Department officials, firefighters were dispatched to a fire alarm in Building A just after 7:40 a.m. The building was evacuated, according to officials but they were not able to locate smoke or fire.
Before fire trucks left the scene, "some type of explosion...came from the women's restroom," according to a press release. 
Madison Anderson's sister was inside building A on Georgia Gwinnett's campus when she heard the explosion. 
"She said it was a big boom, and they were all telling everybody to get out," Anderson said.
Lanece Strickland was inside a different bathroom in the building when it happened. 
"My first instinct was to run, because you don't stand there when you hear people screaming," she said.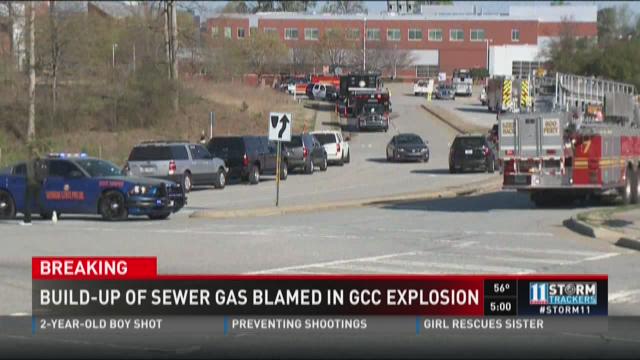 Firefighters located a woman with burns and potential blast injuries, she was transported to Grady hospital with severe injuries. No other victims were located. Gwinnett fire officials said the victim is a food services contractor at the school. She is expected to survive.
According to a message released by GGC President  Stas Preczewski Monday afternoon, there is no suspicion of foul play involved with the explosion.  Its cause is thought to be related to a potential build-up of gases in a sewer line that was triggered by an unknown spark or flame.
"It may take some time to determine the exact cause, if one can be found," Preczewski said.
The school spent the rest of the day searching the rest of the buildings on campus to make sure they were safe. Campus, city, county and federal investigators including members of the FBI and ATF assisted in the initial investigation. 
Georgia Gwinnett College also said that classes at all other buildings will remain on schedule for the rest of the day. Only classes in Building A will remain closed through at least midnight on Tuesday. 
Preczewski said structural and utility engineers will inspect the building to determine when it might reopen.
"We are acting out of precaution by keeping the building closed as inspections and repairs begin," Preczewski said.
Four months ago, the campus was placed on lockdown after a man shot and killed his wife near the school.