14-year-old charged as an adult in pizza homicide | News
LAWRENCEVILLE, Ga. -- Police have arrested two people in the shooting death of a pizza delivery driver.
Gwinnett County Police have charged 21-year-old Jermaine Young and a 14-year-old Reginald Lofton with Felony Murder, Aggravated Assault, and Armed Robbery for the murder of Shane Varnadore. Lofton will be tried as an adult.
Varnadore, 28, was killed shorty after midnight on March 2 at an apartment complex at which he was delivering pizza. His body was found in the complex, located in the 1400 block of Herrington Road, after police received a shots fired call.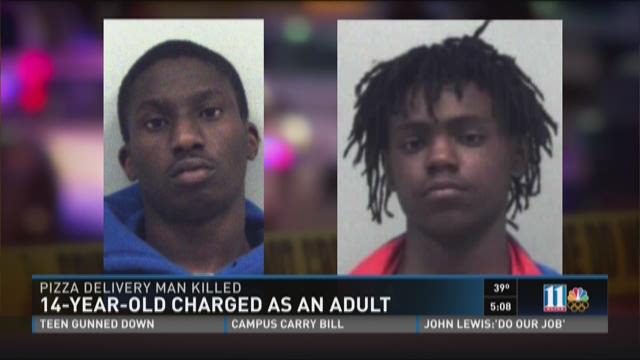 According to Gwinnett PD, the SWAT team assisted in the arrest. They detained several people in an apartment before arresting Young and the juvenile.
The motive: robbery.
PHOTOS | Man killed while delivering pizza 
Young was booked in the Gwinnett County Detention Center and the teen was transported to a metro RTDC facility.
"I'm sure he didn't have very much cash on him," said Teresa Varnadore, the victim's mother. "Pizza delivery guys don't keep large amounts of cash on them. It just seems like a senseless crime."
Teresa Varnadore said her son was loved by everyone, especially his young niece. "He was her favorite person in the world," she said in tears. "Her face just lit up every time she saw him."
Varnadore delivered pizzas for a Papa Johns on Cruse Road, about a mile from the murder scene. A Papa Johns spokesperson said Varnadore was employed for seven years. The company emailed a statement:
"We are extremely saddened to hear of the tragic loss of our team member and friend," said Peter Collins of Papa Johns in a statement Wednesday afternoon. "Our thoughts go out to his family members, teammates and friends during this difficult time. We are working in full cooperation with local authorities in their efforts to apprehend those involved in this senseless act."