'Suspicious' man shoving 95-year-old woman shot by her son | News
LAWRENCEVILLE, Ga. -- What happened at the Public Storage Unit on Riverside Parkway in Lawrencville started out as a normal move.  An elderly woman and her children were dealing with some items when they suddenly found themselves under attack.  The son fired his gun, leaving a suspect in serious condition.
The single shot was fired in self defense, according to police.
The son was trying to protect his 95-year-old mother who police say was being shoved by a stranger.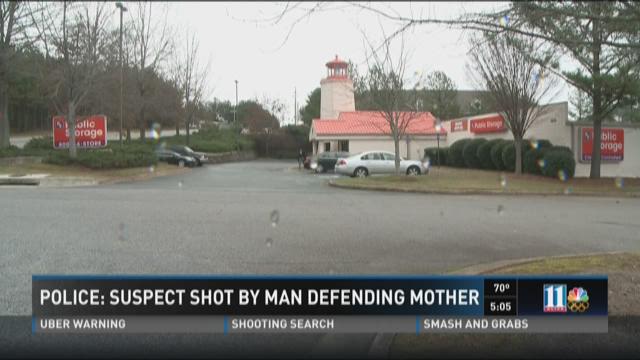 Police say she has a storage unit in Lawrenceville and was moving some items with her son and daughter around 1 p.m. Monday when a suspicious man in his twenties began pacing and looming nearby.
They didn't know him and felt there was something unusual in how he was glaring at them, according to police.
The suspect seemed to recognize their concern and that's when police say he approached the elderly woman. Police say an argument between the man and the family broke out, and the 95-year-old mother tried to calm the situation. But things heated up fast, and the man began shoving her several times.
Her son stepped in and pointed his gun at the man and asked him to stop assaulting his mother, but the man then advanced toward the son. The son fired his gun, hitting the suspect in his torso with a single shot.
"The suspect that has been transported to the hospital is in his twenties and at this point we don't know why he would be compelled to shove a 95 year old woman," Gwinnett County Cpl. Deon Washington told 11Alive's Jeremy Campbell.