Charges: Brothers tried to suffocate mother with plastic bag | News
GWINNETT COUNTY, Ga. -- A grand jury indictment provides disturbing details on two brothers' alleged attempt to kill their parents.
On Sept. 5, police said 17-year-old Cameron Ervin and his 22-year-old brother, Christopher,attacked their parents and attempted to burn down their home. In a frantic 911 call, Yvonne Ervin said her sons had drugged her and were trying to kill her.
The grand jury has filed 13 charges against the brothers, including kidnapping, aggravated assault, false imprisonment, armed robbery, criminal attempt to commit a crime and possession of a firearm or knife during commission of a felony.  
PHOTOS: Brothers accused of trying to kill parents
According to the indictment, the brothers turned on the natural gas in the house and lit numerous candles in an attempt to set the house on fire. That attempt failed and the brothers allegedly attacked their parents.
The charges state that the brothers stabbed their father, Zachary Ervin, numerous times. The brothers then held their mother, Yvonne Ervin, against her will, causing fractured ribs and numerous bruises, according to the charges. The brothers are accused of trying to kill their mother by covering her face with a plastic bag and plastic wrap.
The two then allegedly continued their attack on their father, attempting to strangle him with a plastic bag and then hitting him with a shotgun. The two also struck their mother with the shotgun, according to the charges.
The brothers, still brandishing the knife and shotgun, are accused of stealing their parents' wallet, car keys, and rings. 
While her husband distracted the boys in the garage, Yvonne Ervin managed to lock herself in an upstairs bedroom and call 911. She told the dispatcher that her sons drugged them by putting Xanax in their food.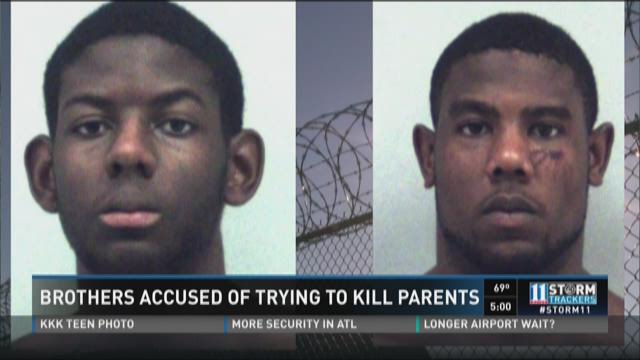 "That's why we're so sleepy," she said in the call. "We didn't understand why we were so sleepy." 
LISTEN:  Read the transcript and listen to the entire call
Prosecutors have not stated a motive on the attack, but Porter has previously said that Cameron Ervin was upset that his parents forced him get a job. Cameron allegedly told his mother during the incident that he had planned the attack since he was 11. In the 911 call, Yvonne Ervin speculated that they may have been after money.  
"I guess they want the insurance money," she told the dispatcher. "I'm not really sure."
The brothers have been held at Gwinnett County Jail since the attack. Their parents have visited their sons in jail, and have said that they forgive them.
Gwinnett County District Attorney Danny Porter said the kidnapping charge carries a mandatory life sentence and each aggravated assault charge could land them in prison for 20 years.  
When asked if they could spend the rest of their lives in prison, Porter said, "That is certainly a possibility." 
Porter said both Cameron and Christopher face exactly the same charges. 
"Our position is they acted in concert, though one of them may have been the planner."  He declined to say which brother may have planned the attack.  
RELATED: Gwinnett parents drugged, then viciously attacked - but why?
AND: 911 call: Brothers drugged parents before trying to kill them
MORE: Warrant: Brother planned attack on parents for years​
PHOTOS: Brothers accused of trying to kill parents
PHOTOS: Mug shots