Woman tortured for hour in brutal home invasion | News
LAWRENCEVILLE, Ga. -- Police are investigating a home invasion in which a mother was brutally beaten and robbed by three men.
Milagros Vasquez-Cid, 40, tells 11Alive's Ryan Kruger she walked her daughter to the bus stop Thursday morning. When she returned home, one man attacked her on her front porch and forced her inside where two others were waiting.
"They said, 'where's my money?'" Vasquez-Cid said.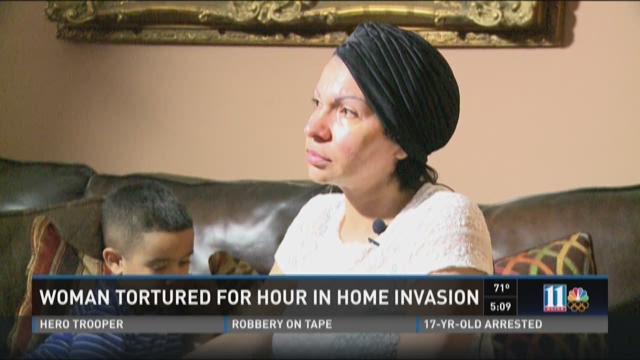 The victim told police the men tied her up, stabbed her and beat her with a hammer. The suspects even cut off a large chunk of her hair.
Vasquez-Cid said she never felt so close to dying. The men even threatened to kill her 4-year-old son who was home at the time. Thankfully, he wasn't hurt.
The suspects cut, punched and stabbed her for approximately one hour while the house was ransacked. They stole $1,500 cash and fled the scene in the Vasquez-Cid's vehicle.
Detectives are working with Vasquez-Cid to determine why she was targeted by the suspects. According to authorities, this was a planned attack and the motive thus far appears to be robbery.
"Detectives are working to determine why she was targeted because, obviously, this was a deliberately planned attack," said Cpl. Deon Washington with the Gwinnett County Police Department.
They are looking for a pearl white 2007 Nissan Quest, with Georgia tag PSC 1330 and three individuals described as:
A Hispanic male, average height, heavy set with a Mexican based accent,
A Hispanic male, between 5-foot-7 and 5-foot-9, between 130 and 140 pounds with a Mexican based accent
A Hispanic male, between 5-foot-6 and 5-foot-8, between 140 and 150 pounds, light skinned with a Colombian accent
Anyone with information is asked to contact the Robbery Unit at 770 513-5300.
To remain anonymous, tipsters should contact Crime Stoppers at 404 577-TIPS (8477) or visit www.crimestoppersatlanta.org. Crime Stoppers tipsters can receive up to $2,000 for information leading to an arrest and indictment in this case.