Stepfather says teen went 'completely psycho' before police shooting | News
Title (Max 100 Characters)
Stepfather says teen went 'completely psycho' before police shooting
LAWRENCEVILLE, Ga. -- 11Alive has learned new information about the Gwinnett County police shooting of a teen who was armed with a knife.
The new information comes from the teen's own stepfather.
He told 911 his stepson was threatening everyone and had just stabbed his little brother.
When 11Alive called the teen's stepfather, he declined to comment except to say he believes his stepson will survive.
But he had much more to say to 911 just minutes before a Gwinnett County police officer arrived and shot his armed stepson in the parking lot of Sugar Hills Apartments.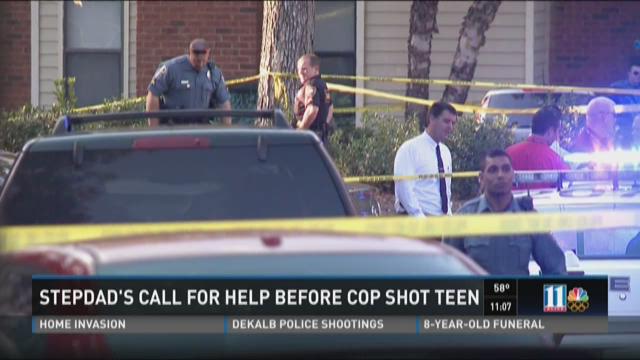 "I just got a threatened phone call from my 17-year-old stepson threatening everyone in my home," he said.
The stepfather, calling 911 while rushing home from work, is worried that his stepson is about to attack his other two kids, ages 15 and 10.
"He's gone completely psycho," he said.
He told 911 that his stepson is angry over being disciplined and punished for skipping school and staying out late.
"He told me that that's a mistake to put him on punishment because he's here alone with everybody and he's starting to destroy everything in the house," the stepfather said.
He gets home but the officer isn't there yet. He calls 911 again to say that the situation has gotten even worse.
"Now this boy has a knife. He's cut his brother," he said. "He's standing here with a knife and has cut his brother open."
Officer Kevin WIlliams, 29, arrives and gets out of his car. He's been with the force just over a year.
"Out with a man pointing a knife at me," he said.
Then, radio silence follows until 49 seconds later.
"Shots fired. One down. Gunshot wound to the chest," Williams said.
An ambulance arrived as police gathered witnesses. Soon the Georgia Bureau of Investigation (GBI) took over the investigation with police telling 11Alive that the teen refused to drop the knife.
Police said he came at the officer with the weapon repeatedly - even after the officer backed away.
One witness told 11Alive he heard someone shot, "Don't shoot."
As for the teen's brother who was stabbed just before the teen was shot, the GBI said the wound was on his hand and required stitches.
The latest information is part of the GBI's investigation which will go to the Gwinnett County District Attorney when it's complete.