VIDEO: Suspects open fire on vehicle at Snellville gas station | News
SNELLVILLE, Ga. -- Authorities are searching for two men seen on surveillance opening fire at a vehicle at a Snellville gas station.
The incident happened at the QuikTrip located at 3490 Centerville Highway around 6:30 p.m. Sunday. Video shows a white Dodge Journey back into a parking space. The driver approaches the driver of a silver car. The man then walks over the passenger's side. A passenger in the Dodge exits the vehicle with a handgun and walks along the sidewalk away from the driver.
As the driver of the Dodge continues to talk with the passenger in the silver vehicle, the driver of the car quickly begins to drive away. The man at the passenger window then pulls out a gun and fires towards the silver car. The passenger from the Dodge also opens fire on the silver car as it speeds away.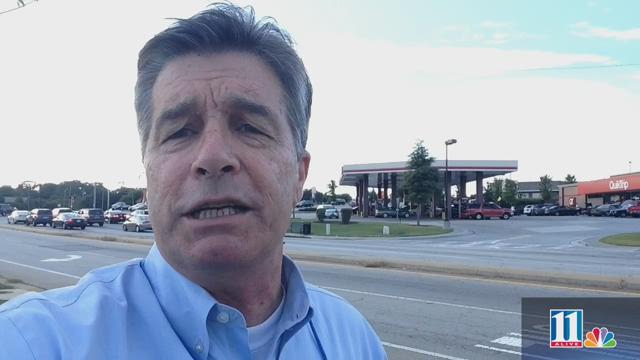 Someone in the Dodge then drives to another exit, and the two gunmen get in. The vehicle then heads out of the parking lot north on Centreville Highway.
"Nobody inside that silver vehicle was struck by any bullets, however, because of all the rounds that were fired, one of the rounds hit a brick pillar near pump number five," said Cpl. Michele Pihera.
That is where Leroy Sheppard was pumping gas. He cowered behind the pump as shrapnel flew. Sheppard told 11 Alive's Kevin Rowson he didn't know he was hit until he finished filling his car with gas. "So I took my shoe off and I see this hole in my foot and my sock," he said. "I said, 'oh, man,' I've been shot."
Sheppard's left foot was heavily bandaged. He was treated at Gwinnett Medical Center.
The Dodge Journey has been recovered, and police have talked to the occupants of the silver car. "I don't think it was completely random," Cpl. Pihera said. "I do think that they knew each other, they were acquaintances."
Anyone with information is asked to call Atlanta Crime Stoppers at 404-577-TIPS (8477).