Mother talks about battle with flesh-eating bacteria | News
ATLANTA -- A Gwinnett County mother discussed her battle with flesh-eating bacteria on Wednesday.
Cindy Martinez, a 35-year-old former Marine, lost her right hand and both legs below the knees after contracting necrotizing fasciitis in late May.
Martinez was treated at several metro Atlanta hospitals before she was transferred to Doctors Hospital in Augusta, where her surgeries were performed. She was moved to Shepherd Center in Atlanta on Aug. 4. 
Wednesday's news conference was the first time Cindy Martinez has publicly talked about the infection. Martinez walked to the podium on prosthetic legs.
Shepherd Center Dr. Anna Elmers said that in the last several weeks, Martinez has made progress "that would normally take several months for someone else to make."
Elmers said that it was extraordinary to see someone walk on amputated limbs so soon.
Martinez said she was able to leave the facility to surprise her son at school last week.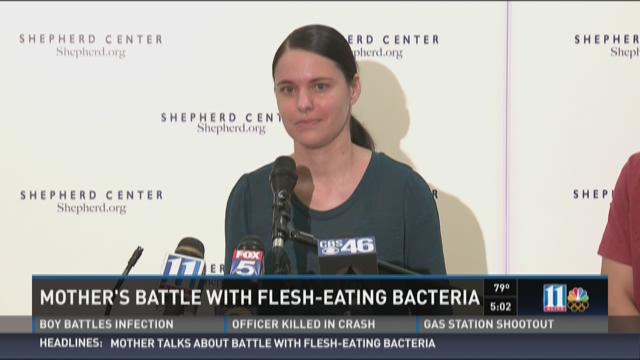 "It was great, it was a pleasant surprise," Martinez said. "It was the first time I got to meet his teacher and was able to eat with him in the cafeteria and was able to do regular things that mothers do with their kids."
Martinez said that she was hopeful that she would be able to head home soon. Martinez said she was feeling great and credited her Marine training in helping her recovery.
"I know when you go through boot camp, it's a lot of mental strength and physical strength, so you can always apply that to different situations and it definitely helped out here," Martinez said.
Martinez said the hardest part of the ordeal was being away from her children for weeks at a time.
Cindy Martinez's husband, David, a Gwinnett County police officer, thanked supporters of the family. He said the family's home is being remodeled to accommodate his wife's medical needs.
A GoFundMe account created to help pay for her medical expenses has raised nearly $99,000.