Teen allegedly used steak knife to kill elderly neighbor | News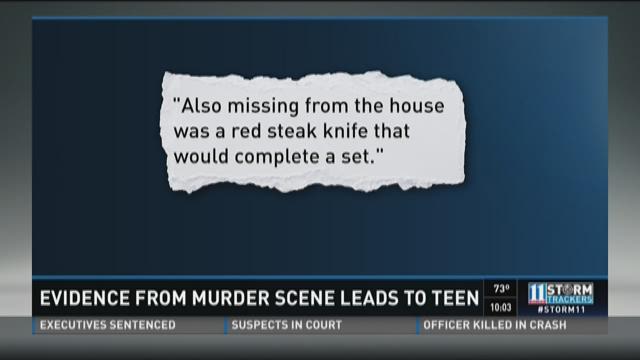 DACULA, Ga -- Police have released few details about the brutal stabbing death of Margaret Sheffield, 77, of Dacula. But newly released court documents obtained by 11 Alive News explain more about how and why she was killed, and what led police to arrest her 16-year-old neighbor.
Sheffield's body was found by a relative inside her home, in the foyer, of her Track Way home on Friday, September 11, 2015. But police believe she was killed the day before on Thursday.
According to a search warrant affidavit, police found something very unusual at the crime scene. "Next to the body there appeared to be vomit along with white earbuds for audio listening," the affidavit said.
Family members told police that Sheffield was missing a maroon purse with double straps, a maroon wallet, credit cards and a check book. The affidavit gives a first glimpse at what the murder weapon could have been. "Also missing from the house was a red steak knife that would complete a set," according to the affidavit.
Almost immediately police turned their attention to a neighborhood teen, 16-year old James Watkins. Neighbors told police that on the day of the murder they saw Watkins walking around the neighborhood and sitting for a long period of time on an electrical box across from Sheffield's home, according to the affidavit.
"Watkins had been known to break into cars and houses. Watkins has been in trouble and wore an ankle monitor for some time," it said.
On Friday the 11th, police went to Archer High School where Watkins goes to school and pulled him out of class. He told police he was not in school the day before. "Watkins admitted that he did sit on the electric box for an extended period of time. Watkins also stated that he was not in school due to him throwing up all day." Police noted vomit was found next to Sheffield's body.

Police asked to look at Watkins hand and noticed a two-inch slice on his right hand. "Watkins stated that he was right handed and that he cut his hand cutting vegetables."

After searching Watkins home, nine doors from the murder scene, police seized grey mesh shorts, a knife, earbuds and a wallet with cash and contents," according to the document. The affidavit did not say if the knife seized from Watkins home was a steak knife. Police also collected DNA from Watkins to compare to the vomit found next to Sheffield's body.
You can follow Kevin on Twitter @krowson11alive and like him on Facebook