Snellville nursing home faces possible fines after resident's injuries | News
Title (Max 100 Characters)
Snellville nursing home faces possible fines after resident's injuries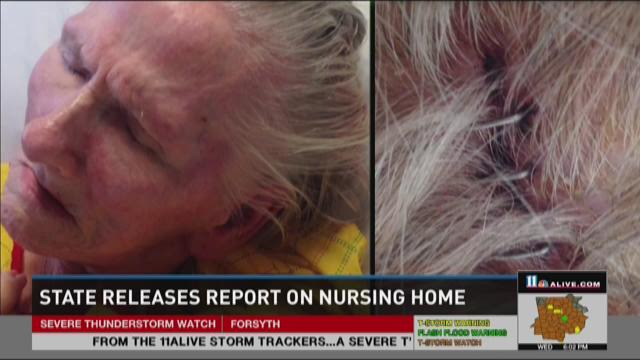 SNELLVILLE, Ga. -- A Snellville nursing home is facing possible fines and increased oversight after an 11Alive News investigation uncovered complaints of alleged abuse and neglect.
The state has just released its findings about the New London Health Center.
The case of Carol Sheppard is what started the investigation.
Related:
Nursing home under investigation for elder abuse
11Alive has learned that at least one person has been fired for not following procedure. But the question that may never be answered is what caused Sheppard's massive head injury.
"I feel bad that we're not going to know what actually happened to my grandmother," Ryan Sheppard said. "She was just such a nice woman and for her to go like that – it hurts."
Sheppard was a full-time resident at the nursing home and bedridden.
On April 13, she was rushed to the hospital with a 3 inch gash on the side of her head and bleeding on the brain.
Related:
INVESTIGATION | Feds now looking into nursing home complaints
No one could explain how it happened.
Now, in a newly released state investigation, 11Alive has learned that it was a nurse and aide who, while moving Sheppard from a chair to her bed, noticed "blood on the back of the head".
A different certified nurse's aide later admitted to moving Sheppard from her bed earlier that morning for breakfast and "not obtaining assistance" from a second person as required by law.
But that worker denied bumping Sheppard's head.
"What do you do when somebody's not coming forward? It's very hard; there's no security cameras or anything," her grandson said. "It's hard to blame it on someone if nobody's coming forward."
Related:
New complaint about Snellville nursing home
Doctor's diagnosed Sheppard with bleeding on the brain and was moved to hospice care where she died three weeks later.
11Alive's investigation into New London Health Center and what happened to Sheppard has sparked a federal investigation.
The longtime administrator of the facility was fired and now, according to the new report, the state is recommending a plan of correction, fines and possible loss of Medicaid if there's not substantial compliance by November.
Since 11Alive aired the initial story about New London, at least seven families have approached the station with concerns about their loved ones.
11Alive's investigation continues. In the meantime, the nursing home has appointed a new permanent administrator.